Jenson ATEX Depot makes paying for your orders easy by supporting a range of payment options.
Here you can find details on the different payment methods supported by Jenson ATEX Depot, and comfortably choose the right payment option for you.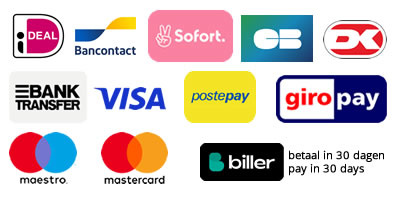 Paying with Credit or Debit Card

Paying by credit card or debit card is safe, easy and convenient at Jenson ATEX Depot. We accept Visa and MasterCard, credit card payments from most locations worldwide.
We also accept iDeal, Maestro, Bancontact / Mister cash, sofort banking and Giropay debit card payments in several EU countries only. 
All your credit card details are securely stored by our payment provider Multisafepay and not Jenson ATEX Depot. 
For all creditcard transactions, we charge a 3% transactional fee.
Debitcard transactions, for example: iDeal, Bancontact, Sofort banking and Maestro are free of transactional fee's
Note: Jenson ATEX Depot does not store or review your credit card & personal information. As such, should any issues arise regarding your credit card or debit card transaction, please contact Multisafepay or your credit card company for assistance. Jenson ATEX Depot cannot accept any responsibility for any credit card or debit card payment issues.
Payment in advance (bank transfer)
Payment in advance is also possible when payment with creditcard or a debitcard is not possible. 
After placing your order, you receive the payment information in your email, the ordered products will be reservated untill your payment has been received.
Purchase order
Buying with a purchase order is available for selected customers, for more information about buying with a purchase order, use the contact form.
Biller
Introduction to Biller
Biller - the B2B buy now, pay later payment method. We offer Biller to companies who want to order fast and securely on invoice. If you choose Biller as a payment method, you will receive a payment request from Biller once the order is shipped. The payment request is sent via email with the necessary payment details. From that moment onwards, you will have 30 days to pay Biller.
To approve your order, Biller performs an assessment on your business details. You can find the terms and conditions over here. For more information about Biller in general, have a look at their website.
Frequently Asked Questions

What is Buy Now, Pay Later?
Buy Now Pay Later for Business is a payment solution offered by Biller that allows the buyer to purchase and receive the products first and pay in the agreed terms afterward.
What is Biller?
Biller is the buy-now-pay-later solution for online businesses and is designed to serve both the business seller and buyer optimally. With Biller, businesses buy now and pay later, with the convenience of consumer payment. As a buyer, you benefit from a startup's innovation and speed, combined with a market leader's reliability and experience.
How do I pay Biller?
Biller will email the payment request to you, the buyer, as soon as the order is shipped by the seller. The payment request includes your invoice due date (depending on the selected terms) and the following bank account details:
Account owner: Biller
IBAN: NL15ABNA0104072172
Payment reference: provided in the payment request email
What is a buyer?
At Biller, we use the term Buyer for all businesses that use Biller as the payment method to purchase goods, services, or assets in an e-commerce checkout of one of our Sellers.
Why is my order not approved?
Biller performs a fraud and credit check on each purchase. Therefore, if the requested company information is incorrectly submitted, it's likely that we couldn't identify the buyer representative of the company and reject the order attempt. The latter could apply to companies that exceed the credit limit as well. For all order attempts, we highly recommend using your full name and business email address when placing the order and avoiding nicknames or abbreviations.
Can I pay earlier than the due date?
Yes, it's possible to pay earlier than the due date of the invoice, as long as you use the payment reference mentioned in the payment request.
Do I need to create an account to use Biller?
No, Biller does not require you to create an account before using the payment method.
What is the maximum amount I can order using Biller?
The maximum order value is depending on several factors, hence one amount cannot be confirmed for all buyers. The following factors can determine the credit limit:
The review from external credit reports
Your buying history with Biller
Your open invoices with Biller
The order value in your webshop basket
Can I place multiple orders with Biller?
Yes, this is possible, as long as the credit limit is not exceeded.
Can I use biller when I miss a deadline for an invoice?
No, this is not possible, as Biller does not encourage buyers to buy more when the debt is not cleared yet.
What happens if I don't pay Biller in time?
Depending on the selected payment term (30, 60, or 90 days), Biller will send you a reminder to make sure you will not miss the payment request. We recommend you process the payment before the due date has passed, to avoid receiving reminder fees. In case multiple reminder fees are applied, possible collection fees in accordance with the payment terms and conditions will be added, as well as the risk that we need to involve debt collection agencies.